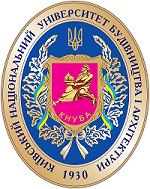 The Mission of KNUCA
To form a new generation of specialists who can modernize the construction and architecture branch in Ukraine.
Motto
We teach how to build the future!
Vision
To be the first among equal and a leader in the education of Ukraine. KNUCA must be a leading scientific center in the civil engineering and architecture field, realize specialists preparation with active life position, modern knowledge, and practical skills. The high competence of the graduates of KNUCA will allow them to become competitive specialists as in Ukrainian as on the world labor market.
Policy in the sphere of Quality
The University has implemented and is using the quality management system, which meets the requirements of ISO 9001:2015 standard.
KNUCA TODAY:
the leading higher educational establishment of Ukraine in the field of training specialists in construction specialties;
has the highest – IV accreditation level;
successfully combines almost 90 years of traditions with modern achievements of the teachers and outstanding scientists;
prepares the professionals in 7 departments that have 27 specialties and near 50 specializations.
In general, the University has prepared more than 80 thousand engineers and architects. Among them, 4260 international students from 116 countries have received diplomas during the time of its existence.